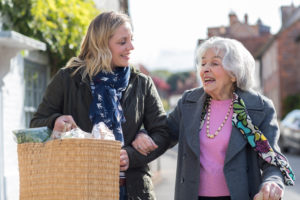 The Friendly Thrift Center
A non-profit mission that has been in operation for 50 years. Clothing and essential household items are available for purchase at a nominal cost. A voucher program is available for those in need. It is located at 1411 Brady Street in Davenport, IA and is open Monday-Saturday, 9:00 am – 1:00 pm. We welcome volunteers and donations anytime we are open.
Garden Ministry

Asbury Garden Ministry is an ecumenical garden that plants and harvests produce for 25 local food pantries, food serving centers, and for people who may not have access to fresh produce.
To learn more contact: Dave Phillips, 563-340-6594, phillips363@mchsi.com or visit their Facebook page.
The most recent Book of Discipline of the United Methodist Church states:
"All creation is the Lord's, and we are responsible for the ways
in which we use and abuse it. Water, air, soil, minerals, energy
resources, plants, animal life, and space are to be valued and conserved
because they are God's creation and not solely because
they are useful to human beings. God has granted us stewardship
of creation."
We may be uncomfortable thinking and talking about our world's
pollution, the climate crisis, species going extinct etc. It's depressing.
Meanwhile, the planet, humans and other living creatures are in distress.
How should we respond as Christians?
As Christians we have a call to help those in distress, a responsibility to educate ourselves and make necessary changes in our lives. To start, we can acknowledge truth of what is happening, look for ways to put our faith into action by caring for Gods' creation and provide hope in a society that may be in despair. We honor Gods' creation by protecting and supporting it.
Here at Asbury, we can choose to learn, plan and respond to these topics.
We will be posting special events and actions in upcoming "Good News" and on Facebook. (There is not a regular time or place to meet.)
We are calling this ministry "Stewards of Creation".
"Stewardship is the wise and careful management of someone else's resources. Stewards are entrusted with something valuable, sometimes priceless, that belongs to another."
Stewards of Creation
Seeks to:
· Initiate ways Asbury can become a "Green Church".
· Provide awareness of recycling opportunities, environmental changes and climate concerns through books, movies, speakers, emails and field trips.
· Give notification of church or community events related to recycling, protecting the environment and climate change awareness and action.
· Provide opportunities to talk with other Christians about these topics. Together we can learn the truth about this subject, seek hope and discover how to take meaningful action in our individual lives and together as a church community.
Join us as we learn and put our faith into action through ecological discipleship as we respect and care for creation.